Register for Upcoming Saebo Webinars
Learn all about our innovative rehabilitation solutions and the unique features and benefits of each product. Each webinar focuses on one Saebo device and includes a Q&A session for an in-depth discussion on how Saebo can improve recovery for nearly any diagnosis. All webinars are hosted by Saebo and presented by Saebo-certified Occupational Therapist and our Director of Clinical Services, Scott Thompson, OTD, MOT, OTR/L, CSRS, LSVT BIG, DCS.
Featured Webinars
Saebo's Home Therapy Collection: A Complete Product Line Overview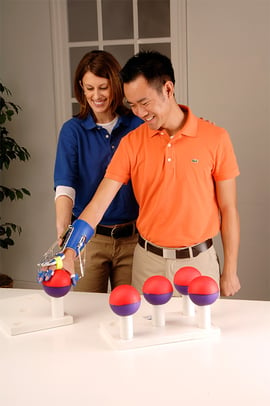 This 1-hour presentation introduces you to the entire Saebo product line of cutting-edge rehabilitation technology designed for neurologically-impaired individuals.
Saebo's comprehensive neuro product line is discussed, which includes:
- Dynamic functional orthoses like the SaeboGlove, SaeboFlex, and SaeboReach
- Zero-gravity mobile arm support, featuring the SaeboMAS and SaeboMAS mini
- EMG/biofeedback triggered stimulation with the Saebo MyoTrac Infiniti - Upper limb virtual reality training with SaeboVR and SaeboReJoyce
- Splinting for contractures using the SaeboStretch
- Electrical stimulation and sensory e-stim with the SaeboStim Pro, SaeboStim One, and SaeboStim Micro
- A comfortable alternative to bulky AFOs, the SaeboStep
- The importance of mental practice and mirror therapy to retrain the mind, featuring SaeboMind and Saebo Mirror Box.
This introductory video will be your first step in creating a comprehensive evidence-based neuro treatment program for rehab at home.


Watch Recorded Webinars On Demand
Click on a date to view recordings of past webinars.
July 17, 2019 - (Recording) SaeboMAS & SaeboMAS mini
August 7, 2019 – (Recording) SaeboStim One
September 25, 2019 – (Recording) SaeboStim Micro
October 16, 2019 – (Recording) SaeboVR
November 20, 2019 – (Recording) SaeboGlove
December 18, 2019 – (Recording) SaeboFlex/Reach
January 22, 2020 – (Recording) Saebo MyoTrac Infiniti
February 19, 2020 – (Recording) Saebo Hand Treatment Kit
March 18, 2020 – (Recording) Saebo Mirror Box and SaeboGlide
April 15, 2020 – (Recording) SaeboStretch
May 20, 2020 – (Recording) SaeboStep
June 24, 2020 - (Recording) Stroke Recovery for our Patients: An Update with Dr. Steven Wolf
July 15, 2020 - (Recording) SaeboStim Pro
August 19, 2020 - (Recording) Saebo's Home Therapy Collection: A Complete Product Line Overview