Register for Upcoming Saebo Webinars
Learn all about our innovative rehabilitation solutions and the unique features and benefits of each product. Each webinar focuses on one Saebo device and includes a Q&A session for an in-depth discussion on how Saebo can improve recovery for nearly any diagnosis. All webinars are hosted by Saebo and presented by Saebo-certified Occupational Therapist and our Director of Clinical Services, Scott Thompson, OTD, MOT, OTR/L, LSVT, DCS.
Featured Webinars
Stroke Home Therapy and Telerehabilitation. What You Need to Know.
This 45-minute webinar will review key ways on how to implement an effective stroke home therapy program utilizing various evidence-based strategies. With the recent COVID-19 pandemic, patients are forced to stay home leading to a possible decline in strength and function. Collectively, we can avoid this through various practical solutions that are available now. Please join us for this very important presentation which will also include a Q&A at the end.
Introducing the Saebo

Stretch

: A dynamic resting hand splint like no other!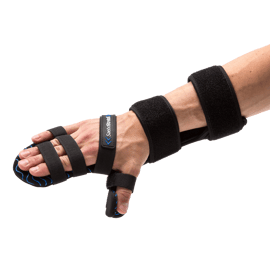 This presentation will introduce you to the SaeboStretch, a comfortable, dynamic resting hand splint designed to prevent joint damage, maintain bone alignment, and improve range of motion. This splint's dynamic energy-storing plates allow wearers to perform volitional movement with increased tone or finger flexion and then return to a comfortable resting position when their hand relaxes.

In this webinar we will discuss:

• The features of the Saebo

Stretch


• Why other splints don't work for spasticity
• The five sizes of our Saebo

Stretch


• Why this should be recommended to all neurological clients
• Research on the Saebo

Stretch