Register for Upcoming Saebo Webinars
Learn all about our innovative rehabilitation solutions and the unique features and benefits of each product. Each webinar focuses on one Saebo device and includes a Q&A session for an in-depth discussion on how Saebo can improve recovery for nearly any diagnosis. All webinars are hosted by Saebo and presented by Saebo-certified Occupational Therapist and our Director of Clinical Services, Scott Thompson, OTD, MOT, OTR/L, LSVT, DCS.
Featured Webinar of the Month
Introducing the Saebo
MyoTrac Infiniti

: A high-tech biofeedback-triggered electrical stimulation device.

This presentation will introduce you to the Saebo MyoTrac Infiniti, a revolutionary, total-body electrical stimulation therapy system.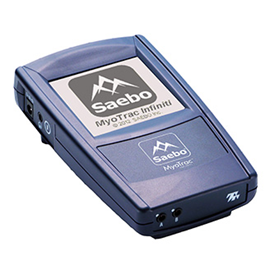 This device has four distinct evidence-based programs that include: EMG/Biofeedback, Electrical Stimulation (NMES), EMG Triggered Electrical Stimulation (ETS), and Reciprocal EMG Triggered Electrical Stimulation. The Saebo MyoTrac Infiniti is designed to take advantage of electrotherapy modalities aimed at increasing muscle mass, strength, and/or decreasing and managing tone and spasticity.
In this webinar we will discuss:
• The difference between typical e-stim devices and the Saebo MyoTrac Infiniti
• The importance of electrical stimulation
• Research for each program
• How the Saebo MyoTrac Infiniti will improve your recovery efforts and efficiency