Register for Upcoming Saebo Webinars
Learn all about our innovative rehabilitation solutions and the unique features and benefits of each product. Each webinar focuses on one Saebo device and includes a Q&A session for an in-depth discussion on how Saebo can improve recovery for nearly any diagnosis. All webinars are hosted by Saebo and presented by Saebo-certified Occupational Therapist and our Director of Clinical Services, Scott Thompson, OTD, MOT, OTR/L, LSVT, DCS.
Featured Webinar of the Month
Introducing the SaeboStim Micro: A sensory stimulation device for cortical sensory priming during the day or night.
Presented by Scott Thompson, OTD, MOT, OTR/L, LSVT, DCS, Director of Clinical Services for Saebo, Inc.
Wednesday,

Sept 25, 2019 2:00 PM - 2:30 PM EDT
This presentation will introduce you to the SaeboStim Micro; a wearable sensory electrical stimulation (SES) unit designed to stimulate the hand and the arm using comfortable Electro-Mesh garments. These garments consist of a glove (hand stimulation) and an elbow sleeve (arm stimulation). The material is highly conductive and is made of silver treated nylon fibers blended with Dacron®. Clients suffering from impaired function, weakness and spasticity can benefit from the much-needed stimulation.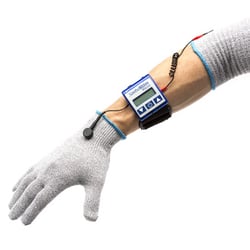 In this webinar we will discuss:
What sensory electrical stimulation (SES) is and how it differs from neuromuscular electrical stimulation (NMES)
The research behind SES
Why this is a must for your therapy routine
The suggested protocol for using it
Why this is the easiest therapy you can do